Leaked Photo Shows Partially Assembled iPhone 4S/5 Components with A5 Chip
Late last month, we reported on photos of what appeared to be the logic board for the iPhone 4S or 5, showing a form factor for the board more similar in appearance to the CDMA iPhone 4 than the GSM iPhone 4, as well as space for Apple's rectangular A5 system-on-a-chip.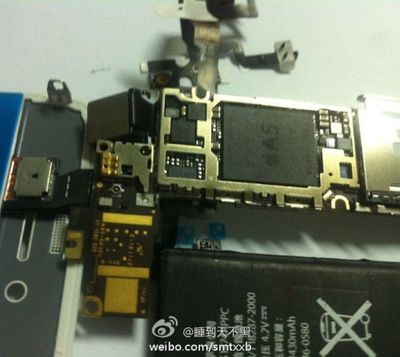 phoneArena.com now points to a new image that has surfaced on Chinese microblogging site Weibo appearing to show that same logic board with all chips in place and at least partially assembled. A connection to what appears to be a white iPhone 4-like front panel/LCD display is visible, as are a battery and several other flex cables from the device.
The image clearly shows an A5 chip, which is of course expected for the iPhone 5. There has been some debate, however, about whether Apple will be introducing an iPhone 4-like model that has been unofficially dubbed the iPhone 4S, a redesigned iPhone 5, or both. If Apple does indeed release both an iPhone 4S and an iPhone 5, an A5 chip in the lower-level iPhone 4S would be a significant inclusion given that Apple has typically chosen to offer versions of its previous-generation models and technologies as its entry-level devices.
The battery included in the leaked photo is also generating some conversation, as it appears to be the same model number is seen in previous photos, but carries slightly different specs. Earlier photos had shown the battery offering 3.7 V and 5.3 Whr, for a charge capacity of about 1430 mAh. For comparison, the current iPhone 4 battery checks in at 3.7 V and 5.25 Whr, offering 1420 mAh of charge.
This new photo appears to have the charge of 1430 mAh stamped directly on it, but curiously seems to list the voltage at 4.2 V. It is unclear exactly why the battery seems to be reporting a different voltage, and thus a different energy close to 6 Whr to reach the same 1430 mAh charge seen in earlier photos of the same part.