Apple to Open Its Largest Chinese Retail Store in Shanghai
Following closely on the heels of rumors of Apple pursuing a new retail store location in Manhattan's Grand Central Terminal, The Wall Street Journal reports that the company is continuing its focus on the Chinese market with plans to open a new store in Shanghai that will stand as Apple's largest in that country.
The company is planning to open a new store - it's biggest in China - on Shanghai's famous Nanjing Road, an Apple spokeswoman has confirmed to China Real Time after news of the plan appeared in Thursday's Beijing Youth Daily.
The newspaper reports (in Chinese) that Ron Johnson, the company's senior vice-president of retail, said the company is now looking for bigger spaces to accommodate the crowds that routinely pack its China Apple stores, which are visited by more than 40,000 people per dayfour times the average traffic in their American stores.
The store would be Apple's third in Shanghai, with an additional two in Beijing. Johnson had noted in early 2010 that Apple was looking at opening up to 25 retail stores in China over the following 24 months, but according to today's report the company may be slowing that timetable slightly as it focuses on building larger stores than originally planned.
Apple has reported on a number of its earnings conference calls that it has targeted China for a concerted retail effort that has been paying significant dividends with explosive sales growth and retail stores that rank as the company's top performers worldwide in terms of foot traffic and sales.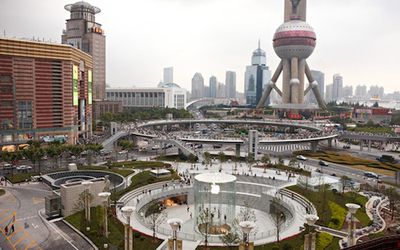 Glass tower of Apple's Pudong store in Shanghai in foreground
Apple opened its
first Shanghai location
, a subterranean store bearing a landmark cylindrical glass tower on the plaza above, in the city's Pudong district last July. A second Shanghai store opened on Hong Kong Plaza in September.