Apple Launches Twitter Account for U.S. iBookstore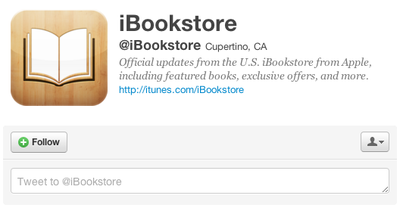 Apple today stepped up promotion of its iBookstore by launching a new Twitter account to keep followers updated on new releases, special offers, and other details from the store, as noted in the account's debut Tweet. The account was created back in June, but Apple has just started using the account to send out Tweets today.
Welcome to the Apple #iBookstore on Twitter. Follow us to discover new releases, exclusive book offers, and more.
The account's second Tweet promotes Erin Morgenstern's "The Night Circus", which is being heavily promoted by Apple. Apple is currently featuring the book on the iBookstore's main page, and Starbucks has also stepped into the promotion by offering a free "extended sample" of the book through its recently-expanded Pick of the Week program.
Apple maintains a number of Twitter accounts to provide updates on new and featured content from the iTunes Store, with the App Store receiving its own account earlier this year. The iBookstore account is not listed as a verified account, but does appear to be official as it is one of only seven accounts being followed by Apple's App Store account. The other six accounts followed by @AppStore are official Apple accounts.
Apple is also increasing its ties with Twitter in other areas, having recently added Twitter and Facebook posting to its online store and bringing systemwide Twitter integration to iOS 5.
Update: The @iBookstore account is now officially verified as belonging to Apple.