Apple Opens App Store Twitter Account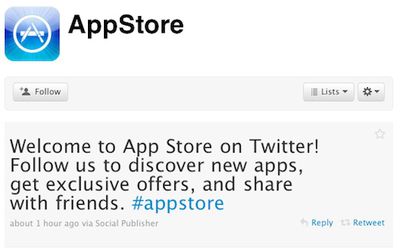 Apple today launched an
official Twitter account
for the App Store, marking yet another potential way for users to keep updated on the latest news about the company's popular marketplace for iOS applications. The account's
debut Tweet
simply welcomes users to the account, which is up to over 4,000 followers at the present time and rapidly growing.
Welcome to App Store on Twitter! Follow us to discover new apps, get exclusive offers, and share with friends. #appstore
The @AppStore account is not yet verified by Twitter as being a legitimate Apple account, but the initial Tweet was retweet by the company's iTunesTV account, suggesting that it is indeed legitimate.
We don't yet know exactly what Apple plans to highlight with the new AppStore Twitter account, although the company's existing iTunes Twitter accounts offer announcements of new and sale releases on a fairly regular basis, so a similar model might be expected for the @AppStore account.
Update: A second Tweet has just been issued from the account, promoting the Nike Training Club application.
Update 2: @AppStore is now listed as a verified account and has already garnered over 50,000 followers.