Another Apple Retail Store Opening This Saturday in Glasgow
News of this week's Apple retail store openings has been trickling out day-by-day so far, and it seems that Apple has added one more opening to the schedule for this Saturday.
On Monday, we noted the unusual mid-week opening for the Stratford City store in London scheduled for the following day, with the new Jungfernstieg store in Hamburg, Germany following suit on Saturday. Yesterday, we reported that Apple had added two more opening for Saturday: Cielo Vista Mall in El Paso, Texas and Via Rizzoli in Bologna, Italy.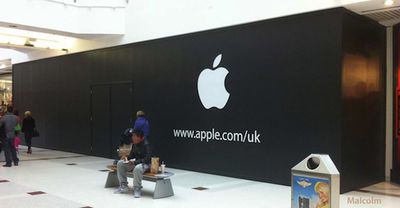 Barrier at Braehead retail store (Source: ifoAppleStore)
Apple last night added a fifth opening to this week's schedule with the debut of the
Braehead store
in Glasgow, Scotland. The store joins the existing
Buchanan Street location
to become the second in Glasgow, and will be Apple's 33rd store in the United Kingdom.