Apple Projected as World's Top Smartphone Vendor for 2011
About six weeks ago, it was revealed that Apple had passed Nokia and held off Samsung to become the world's largest smartphone vendor as measured by shipments during the second quarter of 2011, even if Nokia reportedly held off Apple in sales to end users.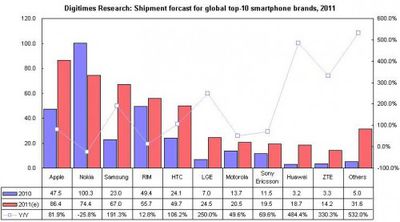 Digitimes Research now reports that it is projecting Apple to take the top spot among global smartphone vendors for the entire calendar year of 2011, leading the way with nearly 19% of the market at 86.4 million units. Apple is projected to easily top Nokia, whose shipments appear set to drop 25% to under 75 million.
Apple is expected to overtake Nokia as the top ranking vendor in terms of shipment volume in 2011, while Huawei Technologies will enjoy robust growth in shipments enabling the China-based company to close its gap with Sony Ericsson and Motorola.

Apple's smartphone shipments are projected to top 86.4 million units in 2011, up 82% from 47.5 million units in 2010. In contrast, Nokia's smartphone shipments in 2011 will decline to 74.4 million units from over 100 million in 2010, said Luke Lin, analyst for Digitimes Research.
Samsung's strong growth on the popularity of several of its Android-based handsets should see it leap over both HTC and Research in Motion, but will not yet be enough to catch either Nokia or Apple in full-year shipments.