Apple Passes Nokia and Holds Off Samsung to Become World's Top Smartphone Vendor [Updated]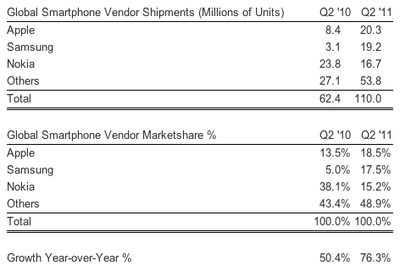 Just hours after research firm IDC released data showing Apple dramatically outpacing the overall mobile phone industry in year-over-year growth for the second quarter of 2011, Strategy Analytics has confirmed that Apple has indeed become the world's largest smartphone manufacturer. In that smaller but faster-growing submarket, Apple dethroned long-time leader Nokia and just barely held off a fast-rising Samsung to take the top spot.
Alex Spektor, Senior Analyst at Strategy Analytics, said, "Global smartphone shipments grew a healthy 76 percent annually to reach a record 110 million units in Q2 2011. We had previously reported on Apple becoming the largest smartphone vendor in terms of revenue and profits. Now, just four years after the release of the original iPhone, Apple has become the world's largest smartphone vendor by volume with 18 percent market share. Apple's growth remained strong as it expanded distribution worldwide, particularly in China and Asia."
With both Apple and Nokia reporting their quarterly financial results last week, it was confirmed that Apple had passed Nokia, but some analysts had suggested that Samsung might surge past both companies on the strength of its Android-based handset sales. While Samsung did indeed achieve remarkable 520% year-over-year smartphone growth to move from 5.0% of the market to 17.5%, Apple's performance was strong enough to at least temporarily take the crown with 18.5% of the market.
Update: ABI Research has just released similar data showing Apple on top of the smartphone market with Samsung in a close second.
ABI Research Senior Analyst Michael Morgan comments: "Although Apple's 142% YoY growth placed it as number one this quarter, Samsung's 500% YoY growth shows that going forward, the top smartphone OEM position is Samsung's to lose."
ABI Research estimates that 47 million Android phones were sold during the quarter, giving the platform 46.4% of the smartphone market, more than double that of the iPhone.