Gartner: Nokia Held Off Apple in Smartphone Sales in 2Q 2011
Late last month, Apple made headlines when a series of research firms including IDC, Strategy Analytics and ABI Research all announced that Apple had passed Nokia and held off Samsung to become the world's largest smartphone vendor by volume during the second quarter of 2011. But all of those firms study the mobile phone market based on shipments from the manufacturers out to the distribution channels, not end sales to users.
Gartner today revealed its data based on final end-user sales, showing that Nokia did indeed hold off Apple for the title for the title of top-selling smartphone vendor by that metric. The key to the difference in assessments is that Nokia substantially reduced its handset volume shipped out for distribution, opting instead to dramatically pare down stocks already in the channel.
"The sales efforts of the channel, combined with Nokia's greater concentration in retail and distributors' sales, saw Nokia destock more than 9 million units overall and 5 million smartphones, helping it hold on to its position as the leading smartphone manufacturer by volume," said Ms. Cozza. "However, we will not see a repeat of this performance in the third quarter of 2011, as Nokia's channel is pretty lean."
Nokia is transitioning its smartphone lineup from its own Symbian operating system to Windows Phone 7, and thus it makes sense that the manufacturer is prioritizing discounted sales of Symbian handsets already out for distribution to help speed that transition. But even accounting for the distribution channel drawdown, Nokia's smartphone business is struggling, with sales to end users actually falling slightly year-over-year as the overall smartphone market and sales from many of the the top vendors are growing dramatically.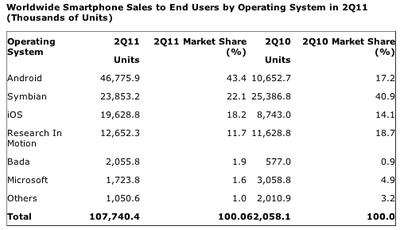 Gartner highlights smartphone sales by operating system rather than manufacturer, showing that Google's Android operating system has continued its momentum that has led the platform to a commanding lead with 43.4% of the smartphone market during the quarter when looking at sales to end users. Symbian took second place with 22.1% of the market while Apple's iOS took third place with 18.2%