'N94' iPhone Gains an FCC ID: BCG-E2430A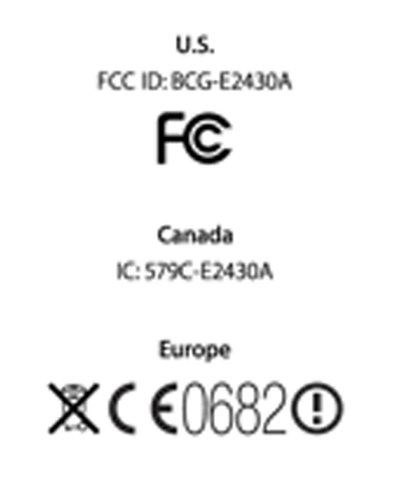 Zoomed in view of image
As the
puzzle
of Apple's next-generation iPhone codenamed "N94" begins to come together in the form of what has been dubbed the "iPhone 4S", the latest
iOS 5 Beta 7
released earlier this week provides more confirmation that Apple is unsurprisingly moving towards a release.
One of the new files we've been tipped off about included in the latest update is called RegulatoryInfo-N94AP@2x~iphone.png, showing the regulatory data for the N94 iPhone as viewed through Settings > General > About > Regulatory on the device.
According to the new file, the unreleased N94 iPhone has been assigned a Federal Communications Commission (FCC) ID of BCG-E2430A. This compares to the BCG-E2380A identifier on the GSM iPhone 4 and the BCG-E2422A identifier on the CDMA iPhone 4.
The device has yet to show up in the FCC's equipment authorization database, although those entries generally do not appear until the day the products are announced. Even then, Apple typically requests that some of the more sensitive documents such as photos of device internals be considered confidential and thus kept from public view for a period of time.
We've seen parts for the N94 and other references in Apple's SDK. That information has suggested the N94 is an A5-based iPhone that looks just like the iPhone 4. The assignment of an FCC ID suggests that Apple is close to bringing the new device to market.