Apple Posts iOS 5 Beta 7 for Developers
Apple has released the seventh beta version of iOS 5 to developers as an Over-the-Air update. The delta release, which only downloads changed code, is a lighter one, weighing in at around 70MB, compared to 144MB for beta 6.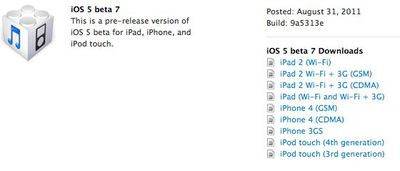 We'll be on the lookout for new features and changes in this release, which comes just 12 days after beta 6 was released. In addition to iOS 5 Beta 7, Apple has pushed Xcode 4.2 Developer Preview 7, iTunes 10.5 beta 7, and Apple TV Software beta 6.