Apple Awards Tim Cook 1,000,000 Shares of Stock as CEO Bonus to Stay Until 2021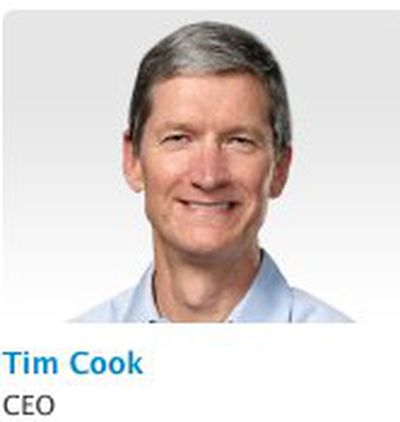 Apple filed a form 8-K with the SEC because of the changes in corporate leadership at the company. An 8-K is the "current report" companies must file with the SEC to announce major events that shareholders should know about.
In this case, the form notifies investors of the resignation of Steve Jobs as CEO; Jobs' appointment as Chairman of the Board; COO Tim Cook's promotion to CEO; and the appointment of Cook to the Board.
Additionally:

In connection with Mr. Cook's appointment as Chief Executive Officer, the Board awarded Mr. Cook 1,000,000 restricted stock units. Fifty percent of the restricted stock units are scheduled to vest on each of August 24, 2016 and August 24, 2021, subject to Mr. Cook's continued employment with Apple through each such date.
This stock award is worth just over $383 million at current prices.
A restricted stock unit, or RSU, is a form of compensation valued in terms of company stock, but the stock is not issued at the time of the grant. In Cook's case, he's getting a promise from Apple to deliver him 500,000 shares of Apple stock in 2016, and 500,000 more shares in 2021 — as long as he stays employed at the company.
In 2010, as COO, Tim Cook received $58 million in salary, bonus and other stock awards.