Prototype Next-Generation iPhone Front Panel Reveals Identical Design to iPhone 4
Last week, a prototype back panel for Apple's "N94" iPhone surfaced, revealing a nearly identical appearance to the iPhone 4. The part was an "Engineering Verification Test 2" component carrying a date of June 7th, 2011, but questions have continued about whether the device represents the upgraded iPhone 5 or an "iPhone 4S" designed to be a cheaper model based on the iPhone 4 design.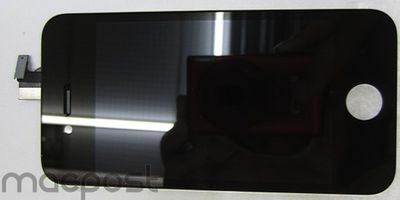 MacPost has now obtained photos of a similar front panel part in black, carrying a similar "Engineering Verification Test 1" designation and dated March 3rd, 2011. The part consists of the entire front assembly for the N94 device, including the digitizer panel itself and the LCD.


The design is entirely consistent with the iPhone 4, showing the same amount of bezel edge on the sides of the screen and a hole for the traditional iPhone home button.
The panel part shows same bezel space on the sides of the display, as well as similar space between the screen and the home button and top ear piece, when compared with iPhone 4. If you compare the digitizer component, it is exactly the same as that of iPhone 4 model. The home button might not be going anywhere and the cut-out area for Home Button is still circular which debunks earlier claim that iPhone 5 will get an elongated Home Button (rather capacitive).
With continued reports of a redesign for the iPhone 5, perhaps with a metallic back, the interpretation of these parts points toward them being from the "iPhone 4S". We have yet to see, however, any leaked parts from the rumored form factor redesign of the iPhone 5.