Apple Updates Anti-Malware Definitions to Address Fake Flash Player Trojan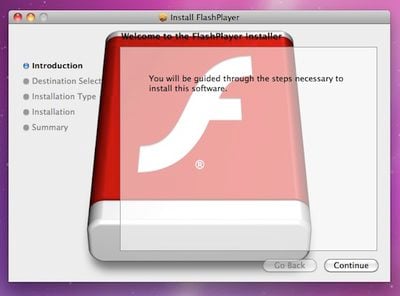 Fake Flash Player trojan installer
While things have been relatively quiet on the malware front for OS X since a
raid
on Russian payment processing firm ChronoPay appeared to have taken down MacDefender nearly two months ago, one new trojan horse did pop up earlier this month. As
detailed by F-Secure
, the trojan known as "OSX.QHost.WB.A" masquerades as a Flash Player installer but actually adds entries to a computer's hosts file to redirect users attempting to visit certain Google sites.
Once installed, the trojan adds entries to the hosts file to hijack users visiting various Google sites (e.g., Google.com.tw, Google.com.tl, et cetera) to the IP address 91.224.160.26, which is located in Netherlands.

The server at the IP address displays a fake webpage designed to appear similar to the legitimate Google site.
Search results on the fake Google pages actually lead to pop-up windows that load external content which was broken at the time of discovery but presumably consisted of advertisements of some sort. While the threat as implemented at the time of discovery was relatively mild, inexperienced users falling for the trojan could find themselves unaware of what had happened to their systems and how to fix the hijacked routing added by the malware.


Consequently, Apple earlier this week made its first significant addition to its "XProtect.plist" file since the spate of MacDefender variants surfaced in June. The XProtect.plist file contains malware definitions to enable users' systems to recognize and warn users of malicious downloads, a feature that debuted with Mac OS X Snow Leopard back in 2009.
The original anti-malware system required manual updates to account for new threats, and as such was updated only rarely by Apple as part of larger software updates. But with an Apple software update issued in response to the MacDefender threat earlier this year, Mac OS X systems are now able to make daily checks for updates to that file to ensure up-to-date protection against malware.