Last week, we reported that registration information on the domain name applepico.com had been updated to reveal Apple as the owner of the domain. The domain name had previously been listed under brand management firm MarkMonitor and its domain registration arm DNStination, Inc., both known to have handled domain registrations for Apple and many other major companies.
Fusible now reports that another domain, PVRApple.com, has made a similar transition, with its WHOIS registration information being changed to point to Apple instead of DNStination.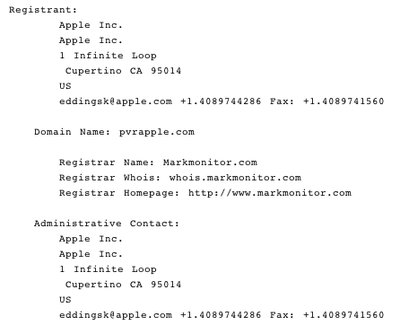 Speculation surrounding the domain naturally turns toward personal video recorder functionalities. Apple has been rumored for many years to be working on a set-top box offering PVR functionality, and some thought that the Apple TV might eventually move in that direction. But with the second-generation Apple TV released late last year, Apple did away with nearly all internal storage and turned the Apple TV into a device dedicated to streaming content.
Apple has also been rumored to be looking to enter the television set business, perhaps integrating some of the Apple TV's functionality directly into television sets. Apple seems to be focused, however, on streaming solutions that bypass the traditional cable provider setup, making it somewhat unlikely that Apple would still be interested in pushing forward on PVR technology for television.
It seems odd for both applepico.com and pvrapple.com to have made the transition to being publicly linked to Apple, and it is unknown whether the change is simply due to some administrative shuffling or if there is more to the story. Apple maintains control over hundreds of domain names, many of them not obviously related to Apple products or features, and thus it is difficult to read too much into the company's specific holdings. But changes related to individual domains owned by Apple naturally pique the curiosity of those trying to look into Apple's plans for the future.