Apple Television Set Rumors Revived, To Launch in 2011?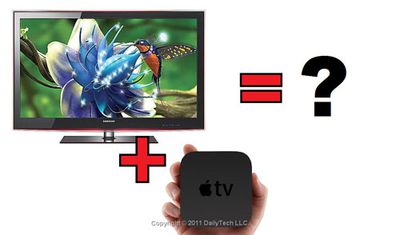 DailyTech revives a long running rumor that Apple may be getting into the TV set business. (via 9to5mac) These rumors have been running for years with previous claims even specifying that Apple would release 42" and 50" Plasmas displays for sale in Apple Stores. Both Apple's Steve Jobs and Tim Cook have dismissed the possibility of an Apple TV set before. In 2010, Cook responded to questions about the Apple TV set top box at a Goldman Sachs Conference:
Q: Where do you see things going with the Apple TV?
A: It's still a hobby, but our gut tells us there's something there. The go-to-market model is difficult, and we have no interest in being in the TV market. But we have continued to invest in the Apple TV and will keep doing so.
According to DailyTech, a "former Apple executive" has revealed that the company has entered into a partnership with an unnamed consumer electronics manufacturer to build Apple-branded television sets that will come with Apple TV and iTunes functionalities built directly into the television set.
According to source Apple plans to "blow Netflix and all those other guys away" by bundling Apple TV + iTunes inside physical television sets. According to the source Apple is teaming up with a major supplier (our guess would be Samsung Electronics Co., Ltd. (SEO:005930)), to provide the physical televisions, which will be rebranded as Apple television sets.
While the televisions would be manufactured by the partner company, they would be branded and marketed as Apple products. Apple is understood to be shooting for a fall release, although the debut may slip into early next year.
Apple's own Apple TV set top box has seen limited success since its launch with Apple describing the entire business as a "hobby". Selling an all-in-one solution could address one of the hurdles that Steve Jobs discussed when talking about Google's entry into the same market:
"Subsidized set-top boxes have squashed innovation because no one wants to pay for separate boxes...ask TiVo, Roku, us, Google in a few months. The set-top box needs to be torn up and redesigned to get people things they way they want them.
DailyTech hasn't been a recent source of Apple-related rumors, so it's hard to gauge their accuracy on the topic.