Apple Reveals Fifth Avenue Cube Plans: Larger, Seamless Glass Panes
Back in June, Apple began work on a $6.6 million upgrade of the plaza and glass cube at its iconic flagship retail store on Fifth Avenue in Manhattan. Barriers surrounding the plaza and the glass cube itself quickly went up, with customers continuing to access the store through a covered passageway leading to the main entrance. At the time the work began, planning documents revealed that Apple would be removing the glass cube and working on drainage, pavers, and bollards on the plaza, but it was unclear just what changes Apple would be making to the cube itself.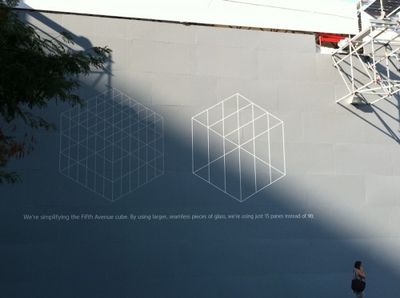 Apple has now revealed its plans for the cube with a new informational sign posted on the barrier surrounding the plaza, showing that the company is completely replacing the cube's glass panels with new, larger panels that will also be "seamless" for a cleaner appearance.
We're simplifying the Fifth Avenue cube. By using larger, seamless pieces of glass, we're using just 15 panes instead of 90.
According to the diagram of the new cube, Apple will be using three glass panes per side of the cube (plus the top), with each side pane stretching the entire height of the cube.
Apple last year filed for a trademark on the original design of the Fifth Avenue store's cube, seeking to protect what was recently ranked as one of the most-photographed sites in Manhattan based on a study of geotagged photos posted to Flickr and Picasa.
Thanks, Vincent!