Apple's iPad 2 Shipping Estimates Drop to 'Within 24 Hours' in U.S. and Canada
Continuing a months-long trend of improving shipping estimates for the iPad 2, Apple today finally reach its quickest possible turnaround time for the device, moving to "within 24 hours" for shipping through the company's online stores for the United States and Canada. Adding engraving bumps the window out to 1-3 business days.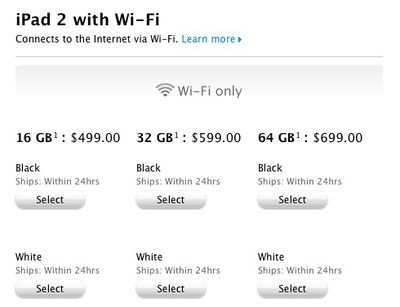 Shipping estimates in Apple's online stores for most of its other markets appear to remain at 1-3 business days, although they too may be updated in the near future to shift to the faster turnaround.
Apple's online store shipping estimates for the iPad 2 quickly ballooned to 4-5 weeks just as the first deliveries of the device began back in mid-March. Estimates slowly dropped over the following months as Apple began to catch up with demand, finally moving to 3-5 business days just under a month ago and then 1-3 business days the following week.