New Mac Purchases Bring iLife '11 to Users' Older Computers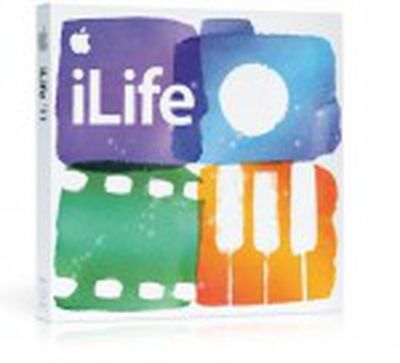 Apple's new computers shipping with Lion do not include physical restore media and instead utilize a hidden recovery partition to allow users to reinstall their system software should the need arise. But as noted by Macworld, reinstallation of the iLife '11 software included on new Macs occurs via the Mac App Store, which recognizes the machines' iLife licenses and links them to users' Apple IDs during the initial setup process.
But one key feature of the Mac App Store is that a single purchased license permits downloading of the software to any machines owned or controlled by the person linked to that Apple ID and logged in with the account. That key feature means that the iLife licenses issued to new computers via the Mac App Store permit users to download the software to their other Macs that may not have been upgraded to the latest version of iLife.
Purchase an app on your laptop, and you can launch the Mac App Store app on your iMac, click the Purchases button, and install that same app without having to purchase it again.

The iLife license you get when you set up one of the latest Macs is no different. Which means that if you haven't yet gotten around to upgrading to iLife '11, buying a new Mac mini or MacBook Air essentially gets you iPhoto, iMovie, and GarageBand for all your Macs running OS X 10.6.6 or later (since you need at least that version of Snow Leopard to run the Mac App Store). And this isn't sneaky or dishonest—it's right there in the Mac App Store's software license.
The report notes that the policy only applies to iPhoto, iMovie and GarageBand, as Apple is in the process of phasing out iWeb and iDVD and does not offer them for download via the Mac App Store or include them on the new MacBook Air and Mac mini. The applications were included in the boxed version of iLife '11, but did not receive any meaningful updates from the iLife '09 versions, meaning that users with fully-updated iLife '09 installed are already running the most up-to-date versions of iWeb and iDVD anyway.