Photos of Purported iPhone 5 Case Based on Latest Design Claims Surface
Earlier this week, a purported case design for the iPhone 5 surfaced showing tapered edges more reminiscent of pre-iPhone 4 designs along with a possible larger screen and gesture area around the home button.
That schematic is not merely a random design drawing, however, as 9 to 5 Mac has received photos of an actual case apparently manufactured based on that design, which has reportedly been shopped around to manufacturers.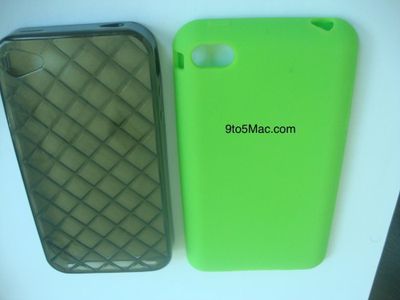 The new case does appear to portend a thinner design if it is indeed for the iPhone 5, but is unable to address claims of a larger screen or gesture area due a lack of covering on the front of the device. Placement of the physical features on the purported iPhone 5 appears nearly identical to the current iPhone, with the exception of what appears to a movement of the mute switch to the opposite side. This places the switch adjacent to the device's rear camera on the right side of the device as viewed from the front, as opposed to above the volume buttons on the left side.
Accommodations for the power and volume buttons are indeed present on the purported iPhone 5 case, although difficult to see in the photos as the case utilizes only small nubs of silicone covering the buttons rather than holes allowing direct access to them. Notably, the volume controls appear more like the elongated buttons found on the current iPod touch than the round individual buttons of the iPhone 4, a change which would make sense with an iPod touch-like tapered design for the new iPhone.


This latest case design is not the first to be claimed to be for the iPhone 5, however, as cases suggesting a nearly identical design to the iPhone 4 appeared in March while others apparently showing the rear camera flash moved to the opposite side away from the camera lens itself showed up in May.