Wall Street Journal and Kobo Pull Direct Content Sales From iOS Apps [Updated]
The Wall Street Journal reports that it will be removing subscription links from its iPad application, deciding to satisfy Apple's new in-app purchasing and subscription rules by removing the purchase links rather than offering subscriptions through the app with Apple taking a 30% cut.
People who download the app and want to subscribe will have to either call customer service or visit WSJ.com.

"We remain concerned that Apple's own subscription [rules] would create a poor experience for our readers, who would not be able to directly manage their WSJ account or to easily access our content across multiple platforms," a Journal spokeswoman said.
The report also notes that Kobo, the eBook company that has risen to prominence through its affiliation with the now-bankrupt Borders, has pulled direct book sales from within its iOS application.
Mike Serbinis, Kobo's chief executive, said Apple told Kobo Saturday that it could no longer operate its digital bookstore from its Kobo apps and had to stop selling e-books directly through them. Kobo subsequently altered the apps so that they no longer sell digital titles.

Now Kobo customers who want to buy digital books via their Apple devices will have to visit www.kobo.com via Apple's Safari browser to make their purchases, a potentially more laborious process for customers used to buying e-books directly through a Kobo app. Customers will continue to be able to access and read Kobo-purchased books from their library on various Apple devices.
Google's Google Books app for iOS has also disappeared from the App Store, although Google has declined to comment on the reason for the app's removal.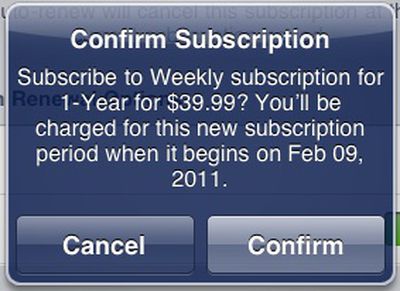 Apple had set a deadline of June 30th for apps to comply with the new rules, but has reportedly been lenient about enforcement as it continues to work with high-profile developers on making their apps compliant. But with the Wall Street Journal, Kobo, and potentially Google's eBooks service all pulling direct content sales from within their apps, it certainly appears that not all of the holdouts are working toward addressing the issue by supporting in-app subscriptions and purchases.
Update: Google Books has returned to the App Store with the link to the company's bookstore removed, although the app's description mentions only "minor enhancements and bug fixes" among the changes included in the update.