Chinese Authorities Close Two Fake Apple Stores Over Permit Issues
Last week, we covered the story of fake Apple retail stores popping up in China and noted a follow-up report from The Wall Street Journal in which employees of the stores shared their thoughts about simply wanting to provide the highest levels of service to their customers.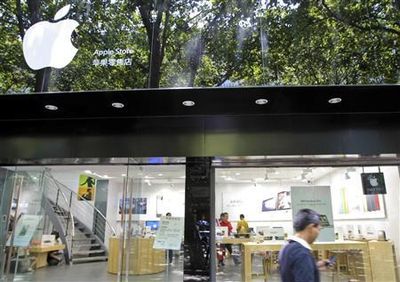 Fake Apple retail store in Kunming, China
Reuters now reports
that officials in the city of Kunming where the fake Apple stores were publicized have discovered five such stores and have shut down two of them. The shutdowns were due to a lack of proper permits, however, rather than for any sort of infringement of fraud related to mimicking Apple's store designs as investigations on that front continue.
"Media should not misunderstand the situation and jump to conclusions. Some overseas media has made it appear the stores sold fake Apple products," said Chang Puyun, spokesman of Kunming government's business bureau.

"China has taken great steps to enforce intellectual property rights and the stores weren't selling fake products."

Officials are investigating whether Apple had applied with the Chinese government to have its store design and layout protected by law, Chang added.
The report notes that Chinese law prohibits companies from copying the "look and feel" of other stores but that enforcement of those laws is "often spotty". Many customers of the stores in question have expressed outrage over the news, feeling that they had been misled into thinking that the stores were genuine Apple-run shops and worrying that they had been sold fake products.
Apple has of course been making a significant effort at penetrating the Chinese market, having opened four large retail stores in Beijing and Shanghai and planning to open several dozen more stores there. During last week's earnings conference call, Apple executives noted that the company's sales in "greater China" totaled $3.8 billion for the quarter, six times that of the year-ago quarter.