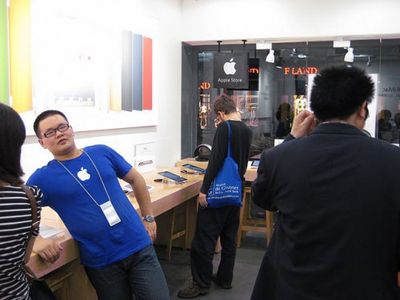 It's not just counterfeit iPads and iPhones that turn up in China. There are knockoff Apple Stores as well. The anonymous writer behind the BirdAbroad blog ran into a fake Apple Retail Store -- complete with wood floors, blue t-shirts and lanyards -- in Kunming, China.

It's an Apple store!

Or is it?

RP and I went inside and poked around. They looked like Apple products. It looked like an Apple store. It had the classic Apple store winding staircase and weird upstairs sitting area. The employees were even wearing those blue t-shirts with the chunky Apple name tags around their necks...

Being the curious types that we are, we struck up some conversation with these salespeople who, hand to God, all genuinely think they work for Apple. I tried to imagine the training that they went to when they were hired, in which they were pitched some big speech about how they were working for this innovative, global company – when really they're just filling the pockets of some shyster living in a prefab mansion outside the city by standing around a fake store disinterestedly selling what may or may not be actual Apple products that fell off the back of a truck somewhere.


The full blog post is a great read, with many details about the fake stores (plural!) she ran into. Her post has been covered extensively, but Apple has declined to comment about the fake stores.