Contrary to initial impressions, the white MacBook has not been discontinued entirely, as Apple has announced to resellers that it will continue making it available only to educational institutions at a price of $899. Note that this is for institutional purchases only and the MacBook will not be available to individuals purchasing through Apple's education channels.
MacBook (MC516) is now Available for Education Institutions Only. All backlog for channel and non direct education institution customers should be cancelled effective today July 20th.

The MacBook (MC516) will be available to all channel partners via the Apple On-line Reseller stores and is now intended to be sold out only to education institutions.
This is certainly not the first time that Apple has maintained a product specifically for educational institutions, as the company has long offered products such as special low-end iMac models to its institutional customers.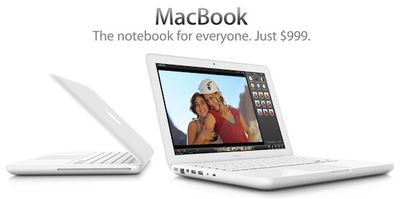 The MacBook has been popular with educational institutions for its low price and solid plastic construction able to stand up to the rigors of day-to-day classroom use. Consequently, it makes sense for Apple to continue offering the model to those select customers. The move also explains yesterdays rumor of Apple "phasing out" the MacBook with production set to continue at least into next month as Apple repositions the machine for the much smaller educational institution market.