While Apple has received significant criticism for stripping out a number of features from its professional-level video production software in the transition to Final Cut Pro X, the company has said that it will be updating the new application on a regular basis, and has acknowledged that it is working on restoring some of the lost features.
One of those missing features is compatibility for XML projects, a popular open format that Apple had embraced in Final Cut Pro for several years before eliminating it in Final Cut Pro X. According to Philip Hodgetts, Apple has apparently stated that it is working on a replacement for the XML workflow, as well as the ability to import XML from older projects into Final Cut Pro X.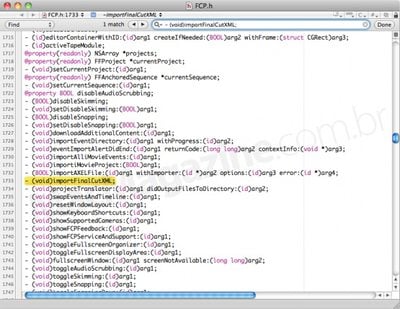 That XML import support may in fact be coming relatively soon, as some digging by MacMagazine.com.br [Google translation] reveals that the XML importer is already present in Final Cut Pro X in some form, but has not been turned on.


MacMagazine.com.br's source not only found references to an "importFinalCutXML" function within the code, but also was able to run the function to bring up an "Import XML" window that is unfortunately not yet functional.