Viacom Sues Cablevision Over Live TV App for iPad, Negotiating Settlement With Time Warner
Back in March, cable provider Time Warner launched an iPad app that allowed subscribers to the company's TV and Internet services to access live TV from a number of channels via their iPads while on their home Wi-Fi networks. The cable company was forced, however, to quickly pull channels from several content providers who objected to the usage. Disputes with Fox and Discovery were resolved within weeks, while Time Warner filed suit against Viacom over the issue, claiming that its contract did allow the cable provider to broadcast channels such as Comedy Central, MTV, and Nickelodeon to iPads.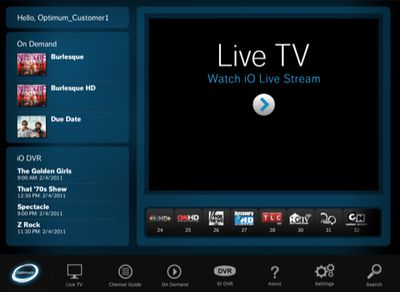 In the meantime, Cablevision
launched its own iPad app
bringing full access to the cable company's cable lineup as well as on-demand content. In the process, Cablevision took content providers head-on with statements laying out its position that such an offering was allowable under carriage contracts for the various channels.
Things had been quiet for the past several months, but a couple of developments yesterday and today are reigniting the debate. Yesterday, The Wall Street Journal reported that Time Warner and Viacom have placed their legal dispute on hold as they work toward a settlement.
The two companies said in a court filing made public Wednesday that they had reached a "standstill agreement," which put all the litigation on hold as of June 17. "In an attempt to resolve this and other litigation and potential litigation, the parties have entered into a standstill agreement," the parties said in the agreement.

The two companies are currently in talks over whether to return channels like MTV to the Time Warner Cable app, but it is unclear what the outcome of those talks will be, according to people familiar with the matter.
While there may be hope for some sort of resolution for Time Warner, Viacom has actually ratcheted up the pressure on Cablevision, as Reuters reports that Viacom has filed a lawsuit against Cablevision over its live TV app for iPad. The Wall Street Journal provides more detail on the lawsuit:
In the suit Thursday, Viacom said it is "committed to meeting consumer demand for broadband delivery of its programming."

"To this end, Viacom has reached reasonable agreements with several emerging and established digital media distributors so that they can stream Viacom's content and also provide an outstanding user experience.

"What Viacom cannot do, however, is permit one of its contracting partners, Cablevision, to unilaterally change the terms of its contractual relationship," it said in the lawsuit.
Apple's iPad has become a popular way for users to consume video, with streaming video services such as Netflix and Hulu experiencing strong success on the platform. Live television is yet another step forward for iPad video consumption, with some networks such as ESPN putting out their own apps for live video while cable providers such as Time Warner and Cablevision have been attempting to bring a breadth of channel offerings to their customers.