Apple to Launch Cheaper AirPort Extreme, 3TB Time Capsule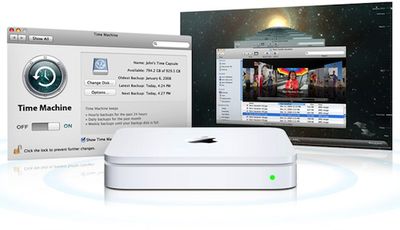 Apple is about to launch upgraded AirPort Extremes and Time Capsules, according to
9to5mac
who cites Mr. X as a source. The new part numbers are listed below and offer a higher storage capacity Time Capsule at 3TB.
• MD031LL/A – AIRPORT EXTREME 802.11N (5TH GEN)- USA
• MD032LL/A – TIME CAPSULE 2TB (4TH GENERATION) – USA
• MD033LL/A – TIME CAPSULE 3TB (4TH GENERATION) – USA
The prices of all parts are said to drop in price, though the exact price hasn't been specified. Given the last minute part numbers, we expect the new devices could launch as early as Tuesday morning.
What's particularly interesting is that the 3TB part was predicted by MICGadget in their report late yesterday.
What's more, the 1TB model may go extinct, and the new Time Capsule will be available in 2TB plus storage, and according to our trusted source, 3TB is tested, but not sure if Apple got it to work.
They also predicted a new design with better heat dissipation, better signal strength and software update caching.