Mac Pro to Use Custom Intel CPU? More Details on Mac Mini and Time Capsule
Over the weekend, we heard rumors that Apple will be delivering new Mac minis and Mac Pros in the late July/early August timeframe. Now, MICGadget claims to have new information about these upcoming desktop refreshes and Time Capsule/Airport devices. Much of the information we've seen before, but they do offer some interesting additional notes of interest.
As expected, the new Mac mini will be receiving Thunderbolt and Sandy Bridge processors. As a side effect of this upgrade, the new Mac minis will end up using Intel's HD integrated graphics rather than an NVIDIA solution. This should be no surprise as Apple has made this same compromise in their low-end MacBook Pros using the recent Sandy Bridge processors.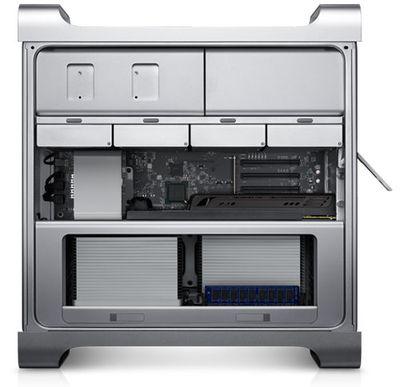 Current Mac Pro design
As for the Mac Pro, MICGadget is also claiming that the new MacPro will be come in a "rack-mountable" design in their new server version to help replace the Xserve. We've
heard this before
as well, but they are also claiming that Apple will be using a "unique CPU" developed for the Mac and not seen in the PC.
Sandy Bridge and Thunderbolt are coming to the new Mac Pro, and at the same time, an unique CPU will be developed for Mac. This unique CPU is not seen in PC.
Early MacRumors commenters in the Mac Pro/Mac mini rumor discussion pointed out that Mac Pro-suitable Sandy Bridge processors aren't known to be available in time for the late July/early August timeframe. The use of a custom CPU would explain away this discrepancy. Apple and Intel have a close relationship and are Intel has been known to supply Apple with custom CPU parts in the past. The original MacBook Air also used a custom part that was available only to Apple for a period of time.
As for the Time Capsule and AirPort Extreme, MICGadget claims that the devices are newly designed with better heat dissipation than previous models. They claim that the new TimeCapsule has a lower TDP and low power consumption hard drive using Apple firmware, while the AirPort Extreme has improved signal strength with six antennas built in. Finally, they echo previous claims that the Time Capsule will serve as a caching system for software updates in Lion and iOS 5.
MICGadget has not previously published many original rumors, so their reliability is unknown. The custom Mac Pro CPU, however, rumor fits in nicely with the previous Mac Pro and Mac Mini release timeframe.