iCloud.com to Offer at Least Some of MobileMe's Web Functionality
While Apple's iCloud introduction at WWDC offered a lot of new information, Apple has been quiet as to exactly what this means to the future of MobileMe's web apps such as email and calendar. In fact, it took a Steve Jobs email to find out the fate of Apple's iWeb hosting services.
Today, ThisisMyNext posted a somewhat controversial clarification they received from Apple PR indicating that MobileMe's web apps will no longer be maintained come June 30th, 2012.
Let's be clear about what happens when iCloud goes live -- according to what was described on stage at the event, and what I've confirmed with Apple PR —--the service will effectively replace the current web offerings of MobileMe. That means that when the cutoff date of June 30, 2012 comes around for users, the web-based email client, calendar, contacts app, and other components of the web suite will cease to exist.
But it seems that isn't the entire story. Apple has already started mirroring at least some of the existing MobileMe functionality on iCloud.com as well.
One reader was able to send themselves a Calendar invitation in iOS 5 and found themselves linked to the iCloud.com domain. The invite (pictured below) is visually identical to current MobileMe invitations but carries the iCloud branding and is hosted on the iCloud.com domain: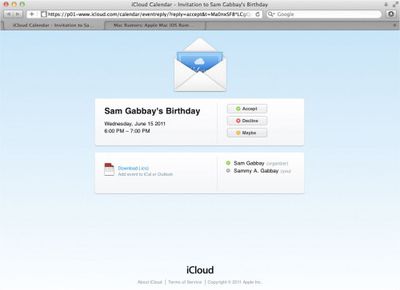 Following this iCloud link shows an iCloud based error page in the same theme.
So, Apple does appear to be working on the web support interface for iCloud but isn't ready yet to talk about it, and at least some of the functionality appears to be based on the existing MobileMe codebase.