An Exhaustive List of iOS 5 Features and Changes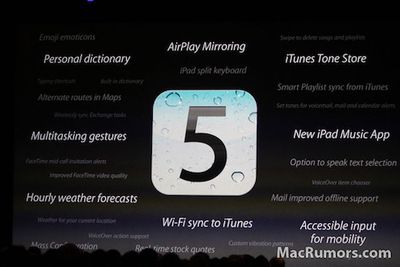 Since the release of first iOS 5 Beta last week, people have been diligently documenting all the new features Apple has introduced in the upcoming version. Apple claims over 200 new features have been added, but have only spelled out a fraction of those. On our iPhone/iOS Blog we've already covered some of the biggest changes. These include:
• iOS 5 Streams Track/Artist Information to Bluetooth Audio Devices
• Multiple Routes Supported in iOS 5 Google Maps
• iOS 5 Brings Improvements to Weather App
• iOS 5 Includes Airport and Time Capsule Setup Software
• iOS 5 Allows You to Tap Out Custom Vibration Patterns
• Screenshot of iOS 5's New iPad Music App
• Demo of iPad's AirPlay Mirroring in iOS 5
MacRumors forum user hellomoto4 has compiled a longer list with screenshots of many of the new findings, such as:

iCal in landscape mode

Storage space for Apps
The most complete list of changes we've seen, however, is from forum user benna who has compiled 153 changes/features as of this writing. There are some duplicates and only a few screenshots, but it's the most exhaustive list we've seen. Here are some excerpts of some of the more interesting changes:
- You can choose what applications to be included in Notifications Center
- Ability to Set Left or Right for Mono Audio
- You can create additional @me.com email address within the Mail settings
- New Private Browsing option in Safari
- Set custom text tone for each contact.
- You can use your phone while its being synced with iTunes.
- Multitasking Gestures in iPad. Use four or five fingers, swipe up to reveal the multitasking bar, pinch to return to the Home screen, and swipe left or right to switch between apps.
- Camera, use two-finger spread/pinch gesture to zoom in/out accordingly (Thanks @Alan)
- When your alarm goes off you can snooze it from lockscreen or slide to turn off
- Ability to set maximum messages downloaded through email to 1000 instead of 250
- Links can be opened in the background
iOS 5 is presently in developer beta release and will be released to the public in the fall of this year.