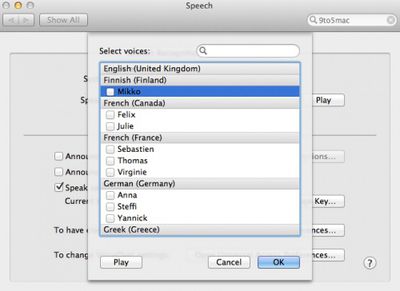 Last month, we noted that Apple had integrated a number of new text-to-speech voices from Nuance in OS X Lion. While the voices themselves were not yet able to be installed in the Lion developer preview, samples available online demonstrated the significantly improved quality over existing voice options in Snow Leopard.
Several users working with the latest OS X Lion developer preview version released earlier this week following the WWDC keynote have reported, however, that the voices can now be installed.
Apple has been reported to have been working on a deal with Nuance to include some of the company's speech recognition technology in iOS 5 and in its new North Carolina data center. And while no Nuance-related announcements were made at WWDC earlier this week, sources have indicated that such integration may still be coming.
Apple and Nuance have a bit of an existing relationship via Siri, a company focused on virtual personal assistant software that was acquired by Apple last year. That application has been powered by Nuance technology, and integration of Nuance voices into Lion may signal an increased collaboration between the two companies.
Update: As reported by Netputing, the voices became active several weeks ago, although many users are apparently just now noticing the change as they test out the latest build. (Thanks, Seth!)