Listen to the Nuance Text-to-Speech Voices Found in Mac OS X Lion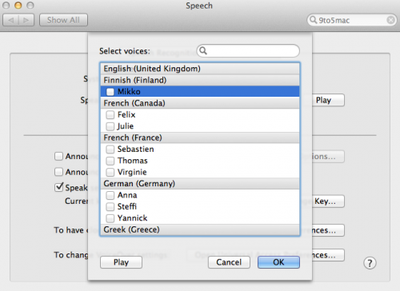 Lion Speech control panel (via
9to5mac
)
Late last week,
Netputing revealed
that Mac OS X Lion Developer Previews include an option to install new text-to-speech voices. The voices were actually found to be identical to voices from a Nuance speech product, seemingly confirming that Apple will be using Nuance technology in Mac OS X Lion. The voices aren't quite yet usable in Lion, as Netputing notes that you currently get an error message in Lion when trying to install them.
OSX Daily
, however, points out that the voices are available online for sample:
- English American Accent – Samantha
- English British Accent – Serena
- French Canadian – Felix
- Spanish – Monica
- Finnish – Mikko (seen in screenshot)
- German – Yannick (seen in screenshot)
- Mandarin Chinese – Mei Ling
The new voices are distinct improvements over the previous text-to-speech voices.
Rumors had pegged Apple's Nuance negotiations to be centered around iOS 5 rather than Mac OS X Lion, although there could be a broader agreement between the two companies. Apple's interest in Nuance seems primarily due to their speech recognition technology rather than text-to-speech functionality, as Siri had used Nuance to power their voice-activated search. Apple acquired Siri in April 2010 and is expected to integrate its technology into iOS.