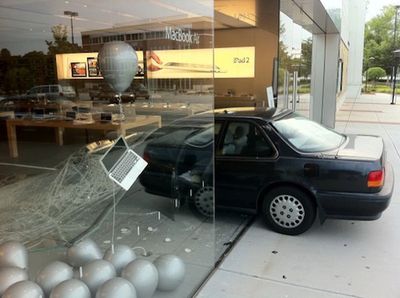 MyFOX8.com reports that a man wearing what was referred to by witnesses as a "white ninja suit" crashed a car into Apple's Friendly Center retail store in Greensboro, North Carolina this morning. The incident appears to have been a robbery attempt, although the man reportedly fled the scene without stealing anything.
Police described the suspect as a white male wearing a white shirt and hooded mask. According to 107.5 KZL, a security guard said the suspect was wearing a white ninja suit.

Police said the car involved in the accident was reported stolen around 6 a.m.
The store will be closed at least through the remainder of the day as staff work to clean up the site.


(Images from 1075 KZL)