Apple Responds Quickly to Evolving 'Mac Defender' Threat With Updated Malware Definitions
Yesterday, we noted that the attackers behind the "Mac Defender" malware had moved quickly to combat Apple's new security update, within hours releasing a new variant of the malware that was capable of skirting around Apple's new protection.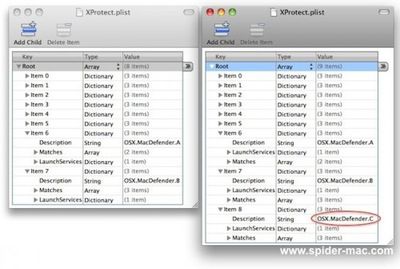 Xprotect.plist before (left) and after (right) latest update to address new Mac Defender variant
Fortunately for users, Apple has moved almost as quickly as the attackers, quashing any potential fears that the company might be slow to respond to each new threat that appears. As
reported
by Italian site
Spider-Mac
[
Google translation
], Apple has already issued an update to detect the new variant, pushing out a new entry for "OSX.MacDefender.C" to the Xprotect.plist file that contains the signatures for identifying malware.
After the update, users are indeed presented with a warning if they begin to download the latest variant:


As part of the security update earlier this week, Apple included a system to automatically update the Xprotect.plist anti-malware definitions every 24 hours, giving the company the ability to quickly push out new protection for Mac OS X Snow Leopard users. While this is unlikely to be the end of the Mac Defender attackers' efforts, it does appear that Apple is committed to responding and issuing updates to its users as quickly as the attackers can churn out new variants.