New Variant of 'Mac Defender' Quickly Evades Apple's Security Update as Cat-and-Mouse Game Begins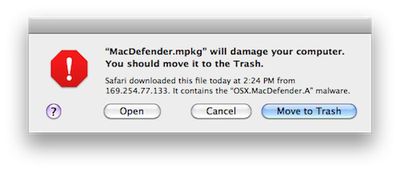 As we noted yesterday, Apple released Security Update 2011-003 for Mac OS X Snow Leopard, a system update addressing the "Mac Defender" malware threat that has been running in the wild under several different variants for the past month. The update provides tools for automatically removing the malware, as well as protection against future infections. But as reported by ZDNet, a new variant of the malware capable of circumventing Apple's update has already appeared. popping up within hours of Apple's software release.
Hours after Apple released this update and the initial set of definitions, a new variation of Mac Defender is in the wild. This one has a new name, Mdinstall.pkg, and it has been specifically formulated to skate past Apple's malware-blocking code.

The file has a date and time stamp from last night at 9:24PM Pacific time. That's less than 8 hours after Apple's security update was released.
Apple has prepared for this eventuality by including automatic daily updates of malware definitions with the software update, enabling it to quickly deploy protection as new variants and entirely different pieces of malware surface. Consequently, Apple should be able to respond to the new threat relatively quickly, although the speed with which the new variant appeared suggests that those responsible for the malware will not be going away easily.