Samsung's Lawyers Demand to See iPhone 5 and iPad 3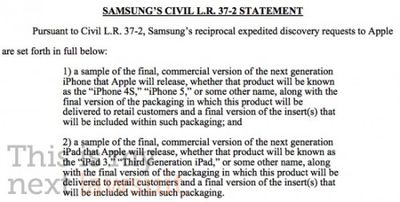 Thisismynext points out that Samsung has filed a motion Friday night asking Apple to turn over the iPhone 5 and iPad 3 as part of the discovery process in the ongoing Samsung/Apple legal feud.
Samsung claims that it needs to see Apple's future products because devices like the Droid Charge and Galaxy Tab 10.1 will presumably be in the market at the same time as the iPhone 5 and iPad 3, and Samsung's lawyers want to evaluate any possible similarities so they can prepare for further potential legal action from Apple.
The demand comes after Apple's lawyers were granted access to Samsung's upcoming (and already publicly demoed) devices.
To be clear, access on each side is restricted to the lawyers involved and not any of the engineers from either company. Thisismynext believes this is just a calculated gamble for additional leverage, and that the whole motion sounds strange and based on many assumptions.
That means talks have been at a standstill for a long time now, and I wouldn't be surprised if Samsung was trying to put some additional heat on Apple to try and kick negotiations back into gear.
Apple filed suit against Samsung over its Galaxy line of hardware and similarities to the iPhone and iPad lines.