Apple Granted Access to Unreleased Samsung Hardware in Patent Suit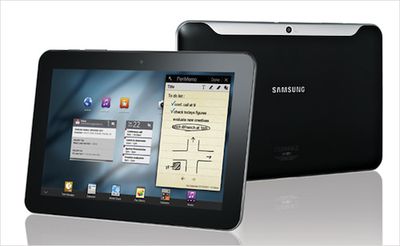 Samsung's Galaxy Tab 8.9
Last month, Apple
filed suit
against Samsung, claiming patent and trademark infringement from Samsung having allegedly copied Apple's "technology, user interface and innovative style" in its Galaxy line of smartphones and tablets.
Courthouse News Service now reports that a federal judge has given Samsung 30 days in which to provide Apple with samples of a number of unreleased hardware models in order to assist Apple with determining whether it would like to request an early injunction to halt the claimed infringement.
Samsung Electronics was told Wednesday to fork over five of its not-yet-released mobile phones to Apple. Sitting in Federal Court in San Jose, Judge Lucy Koh ruled that Apple deserves the quick production of cell phone samples three months earlier than usual in the litigation process, though she drew the line at requiring testimony from Samsung executives.

"Apple has demonstrated good cause for some, limited expedited discovery," said Koh. "While Apple has not yet filed a motion for preliminary injunction, courts have found that expedited discovery may be justified to allow a plaintiff to determine whether to seek an early injunction," said Koh.
The Samsung models in question include the Galaxy S2, Galaxy Tab 8.9, Galaxy Tab 10.1, Infuse 4G, and Droid Charge.
While the models have yet to be officially released to the public and Samsung has argued that examination of production samples that may not necessarily reflect final shipping versions is inappropriate, Koh noted that the argument is undermined by Samsung's publicity efforts that have seen images and even demo units handed out to members of the media. In one noteworthy example, 5,000 Galaxy Tab 10.1s were given away to attendees at the Google I/O conference earlier this month.