Apple's Music Streaming Service to Eliminate Buffering Lag With Locally-Stored Snippets?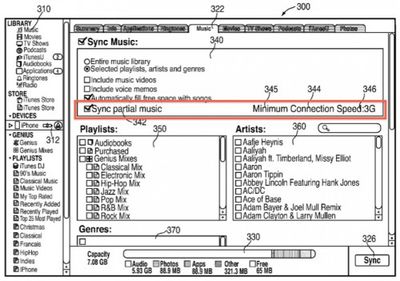 As noted by AppleInsider, the U.S. Patent and Trademark Office today published a patent application from Apple describing a system for eliminating delays in streaming media by storing small portions of the content locally on a user's mobile device. The content covered in the patent application, which is entitled "Local Storage of a Portion of Streamed Media Items" and was filed in November 2009, is particularly relevant given claims that Apple is on the verge of rolling out a cloud-based music storage service.
This invention is directed to playing back streamed media items using an electronic device. In particular, this is directed to locally storing one or more clips corresponding to a media item such that the clips can be immediately played back in response to a user request to play back the media item. While the clips are played back, the electronic device can retrieve the remaining segments of the media item from the user's media library as a media stream over a communications network. Once the playback of the clip is complete, the electronic device can seamlessly switch playback to the media stream received from the user's library. The electronic device can authenticate with the remote library using any suitable approach, including for example one or more passwords and tokens.
In essence, local storage requirements can be significantly reduced by keeping only a few seconds' worth of each audio or video file on the device itself. That content could begin playing immediately upon selection by the user as the remainder of the requested file is streamed in the background and seamlessly appended onto the locally-stored portion. The solution seeks to eliminate lag that can be generated by a streaming-only solution as the device builds an initial buffer of content to ensure smooth playback.
Among the figures included in the patent application is a schematic of an iTunes window showing music syncing preferences for an iPhone where a user can select whether or not to store snippets locally and other options such as the minimum connection speed required by the user to take advantage of the streaming capabilities, thus helping the system determine how much of the content needs to be stored locally. Remote storage of media could be deployed on any of a number of sources, including the user's own home computer, a central server, or directly from a marketplace such as Apple's iTunes Store.