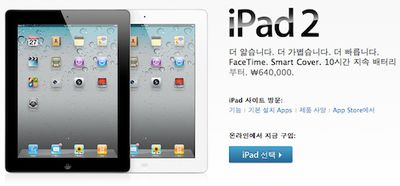 Reuters reports
that South Korean carriers SK Telecom and KT have ceased taking online orders for the new iPad 2 as they struggle to meet high demand for the popular new tablet device. The move comes less than a week after the device
went on sale
in that country.
"Our iPad 2 inventory has been depleted and we apologize for failing to provide enough supplies due to the product's global supply shortages," SK Telecom said in a posting on its website.
The companies declined to reveal sales.
Apple shipped a total of 4.69 million first- and second-generation iPads during the first quarter of 2011, a significantly lower figure than most observers had expected even when accounting for a 500,000-unit drop in channel inventory that pushed the sales total to approximately 5.2 million units. Apple has reportedly been struggling to ramp up production of the iPad 2 to meet demand among rumored manufacturing issues. Shipping estimates have, however, declined in most markets, suggesting that the company may be getting close to achieving supply-demand balance.