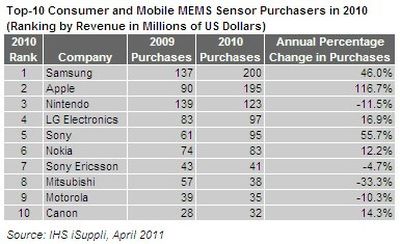 Late last week, research firm IHS iSuppli
reported
that Apple had become the world's second-largest buyer of MEMS sensors for consumer electronics, surging past Nintendo to land just behind Samsung in the rankings. MEMS sensors include the accelerometers, gyroscopes, and microphones included in many Apple products.
The company's purchases of consumer/cell phone MEMS sensors rose by 116.7 percent in 2010, the highest rate of any major buyer. Apple's purchases rose to $195 million in 2010, up from $90 million in 2009.
This strong increase propelled Apple past Nintendo. Apple in 2010 also came within a hair's breadth of taking the No. 1 spot, trailing leading purchaser Samsung Electronics Co. Ltd. by just $5 million.
Nintendo had been the top buyer in 2009, but sagging demand as Wii sales dropped off allowed both Samsung (46% growth) and Apple to surpass it in 2010.
"Consumers in 2010 happily bought up Apple products including the iPhone 4, the iPad and iPod Touch," noted Jérémie Bouchaud, principal analyst for MEMS at iSuppli. "Much of the appeal of these products lies in their sophisticated user interfaces, which rely heavily on MEMS sensors, specifically accelerometers, gyroscopes and microphones. This caused Apple's purchasing to boom in 2010."
The report notes that Apple has led the way in MEMS over the last few years, creating entirely new markets for the technology by popularizing the inclusion of accelerometers on mobile phones with the iPhone and revolutionizing the MEMS-heavy tablet market with the iPad.