Final Cut Pro X Demo: 'Nowhere Near' Final Version, More on Final Cut Studio Apps Coming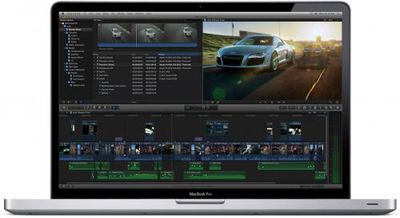 While
unofficial video
of yesterday's Final Cut Pro X sneak peek has already surfaced, prominent trainer and consultant Larry Jordan has also posted an
excellent overview
, entitled "The Sound of 1,700 Jaws Dropping", describing the overhaul for Apple's professional-level video editing package.
The new Final Cut Pro is a bold move - a totally redesigned interface, 64-bit memory addressing, multi-processor support, tight integration of metadata in the project file with metadata stored in the clip not just in the project, heavy use of automation to simplify tedious tasks, and a rethinking of the entire concept of what it means to edit.
I can't think of any other company that could so totally redefine what a non-linear video editor is than Apple. Since the release of Final Cut Pro 1, each version of FCP has contained incremental improvements. This is a complete restatement at every possible level.
As Phil Schiller, senior VP for world-wide marketing for Apple told me after the presentation, "This is a total rethinking of how we tell stories visually."
Apple has yet to update its website with any information on the new Final Cut Pro, and may not do so for some time yet given that the event was an early demo of the software and not an official launch, but many of the features detailed in the demo have already been noted in our coverage of the event.
Jordan reports, however, that the Final Cut Pro X build used in the demo was in fact an old one that had been used in February for a small invitation-only preview on Apple's campus and that many more improvements have been made since that time.
While the slide show was identical to the February meeting, the demo was not. Randy Ubillos, who did the demo, added more features and additional explanations on effects (see the screen shot above). However, I was told later that the build that was demoed was the same build that was shown in February - and that the application has moved significantly forward since that time.
In other words, what we saw tonight was nowhere near the final form of the application.
And just as we noted Apple's comments to The Loop last night suggesting that Apple will share more information on the other components of Final Cut Studio in due time, Jordan reports that despite drawing heavily on many of those components for Final Cut Pro X itself, Apple indeed says that there is more to come.
After the presentation, I spoke with Richard Townhill, Director of Pro Video Product Marketing for Apple (who served as the host for Apple's presentation) who told me that "the purpose of today is to focus exclusively on Final Cut Pro, highlight some of the new features, and give people a chance to see and comment on the new interface. We will have much more to say about both Final Cut and our other applications in the future."
Final Cut has been rewritten from the ground up and borrows a lot from other siblings in the suite. The audio cleanup and processing borrows heavily from Soundtrack Pro, primary and secondary color correction tools are taken from Color (see the screen shot below), and some of the motion effects techniques are taken from Motion.
However, this does not mean these other applications are dead - simply that Apple is not talking about them... yet.
Final Cut Pro X is set to launch in June and will be priced at $299.