Foxconn to Invest $12 Billion in Brazil With iPad Production to Begin by November?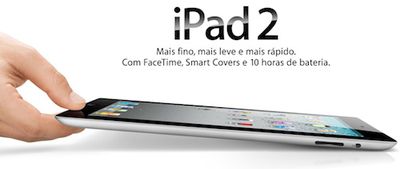 There have been some rumblings in recent weeks about Apple and manufacturing partner Foxconn making investments in Brazil to manufacture devices there in an effort at least in part designed to boost sales there by circumventing
high import taxes
currently assessed on the devices coming in from overseas, but according to a
new report
from Reuters, things seem to be firming up with Foxconn considering investing up to $12 billion in manufacturing facilities in the country.
The Brazilian government is studying Foxconn's investment plan, President Dilma Rousseff told reporters during a visit to Beijing, where she is meeting with Chinese President Hu Jintao.
"You've got an ample range of investments that go from $300 to $400 million to $12 billion over 5 to 6 years in the case of Foxconn," Rousseff said, speaking of discussions Brazil's government is having with various technology companies.
"They're proposing a partnership. They came to us and said we want to invest in Brazil."
Aloizio Mercadente, Brazil's science and technology minister, notes that discussions with Foxconn have been in progress for three months and while they are still in progress, he is "confident" that a deal will be reached. Mercadente also reported that Foxconn is preparing to begin manufacturing the iPad in Brazil by the end of November.
Separately, Mercadente also told reporters that Foxconn is planning to begin assembling Apple's iPad tablet PC at its plants in the South American country by end-November.
Foxconn is Apple's chief manufacturing partner for its mobile devices, as well as for many of its computers. The Taiwanese company has primarily hosted its manufacturing plants in mainland China, tapping into that country's vast workforce for high-volume production of electronics. The company has, however, in recent months begun instituting plans to expand beyond its massive base in Shenzhen, China to other regions of the country and even internationally.