Atari's Greatest Hits for iPhone, iPad, and iCade?
Atari has released a new emulator for the iPhone and iPad called Atari's Greatest Hits [iTunes]. The free universal download comes with Pong and also offers a selection of 100 classic Atari arcade and 2600 console games for in-app purchase. The full list of games can be seen here but include Asteroids, Centipede, Crystal Castles, Gravitar, Star Raiders, Missile Command, Tempest, Battlezone, and much more. Each 4-pack is offered for $0.99 or all 100 games can be purchased for $14.99.
The package has been
well received
at sister site TouchArcade, but perhaps most promising is that Atari had previously
announced support
for the iCade iPad gaming accessory.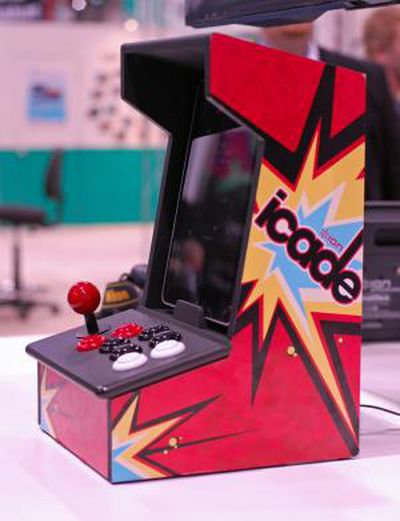 The iCade began as an
2010 April Fools joke
but based on the response was developed as an actual product. The iCade is a miniature arcade cabinet that allows you to slide an iPad in as the screen. The iCade then provides a joystick and buttons for gameplay.
Asteroids had been demoed on the iCade at CES, but Atari had also promised a "huge suite" of classic games to market the device. It appears that has suite has arrived. The iCade is currently in production and is expected to be available for ordering in June.