CES 2011: iCADE for iPad, Magic Mouse Inductive Charger
iCADE for iPad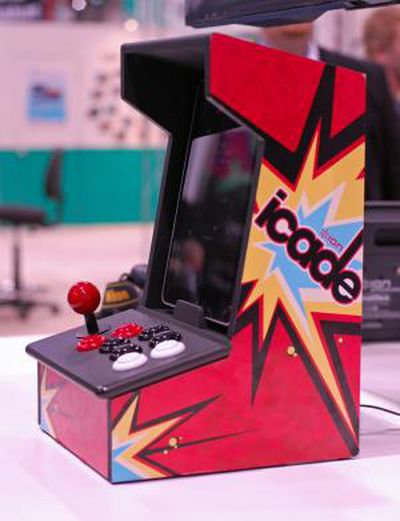 A number of accessories for Apple products were on display at the 2011 International Consumer Electronics Show this week. Among them were a few unique products, with the iCADE by ION Audio as one of the most notable items among these. The iCADE is a miniature arcade game controller accessory for the iPad.
The iCADE was first conceptualized by Thinkgeek and unveiled on April Fool's day last year and ION partnered with the retailer to develop and bring the product to market. The iCADE provides an analog interface for gameplay through a joystick and buttons, connecting to the iPad via Bluetooth.
iCADE has also partnered with game developer Atari to offer several games, including Asteroids, along with the iCADE. ION has
announced
that the iCADE will be available in the spring and will be priced at $99.
Magic Charger

On the more practical end of the spectrum, Mobee Technology was on hand to showcase its Magic Charger, an inductive charging accessory for Apple's Magic Mouse. The Magic Charger is comprised of a replacement battery pack and bottom plate for the Magic Mouse and a charging base. Once installed, the Magic Charger's battery pack allows the Magic Mouse to be charged by simply placing it on the included charging base.
The Magic Charger is priced at $49 and can be ordered directly from
Mobee
and is expected to be available at Apple retail stores soon.