Potential iMac Update to Sandy Bridge and Thunderbolt in 4-6 Weeks?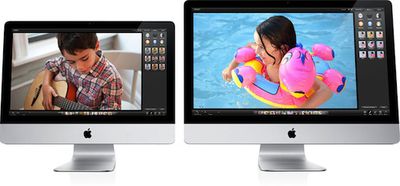 As tracked in our
Buyer's Guide
, the iMac has reached its average update interval, suggesting that we might be able to expect refreshed models to appear some time in the relatively near future. Expectations for revamped iMacs include a move to Sandy Bridge processors and implementation of the new Thunderbolt connectivity standard that debuted in the MacBook Pro last month.
In a series of Tweets (via MacNews.de), CNET's Brian Tong claims to have received word from a reliable source that new iMacs should debut in late April or early May. The updated iMacs are said to feature Sandy Bridge and Thunderbolt as expected, but no major cosmetic changes are reported to be included.
- EXCLUSIVE: My Sources: New iMacs en route by ocean to U.S. available end of April or 1st week of May. No major cosmetic changes.
- My sources say New iMacs will feature Sandy Bridge and Thunderbolt. No other specifics.
- We'll see if this pans out, but I'm highly confident in my source. If you're looking for a new iMac. WAIT FOR IT!
iMac rumors have been relatively sparse in recent months, although DigiTimes indicated in mid-December that Apple was expected to update both the MacBook Pro and iMac in the first half of 2011 with the iMac featuring a new panel size and price points. Just days before the MacBook Pro update in late February, DigiTimes reiterated its claim that may change the screen size on new iMacs, claiming that the new models could debut alongside or soon after the MacBook Pros.