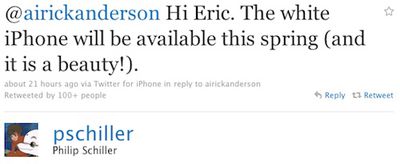 Apple executive Phil Schiller yesterday
confirmed
in a Tweet that Apple still intends on delivering a white iPhone "this spring". While Schiller did not explicitly note that the device would be an iPhone 4, he is presumably referring to the much-delayed white iPhone 4 given that the fifth-generation iPhone is almost certainly not set to launch until the summer timeframe of June or July.
The white iPhone will be available this spring (and it is a beauty!).
Originally announced in June 2010 alongside the black iPhone 4, the white version has been delayed several times by Apple, reportedly due to issues with paint application that have caused issues with light leaking through and affecting the device's rear-facing camera.
Apple's last public comments on the delays came in October, when Apple pegged the launch for spring of this year. While several indications since that time, including claims from just last week that the device should ship in early April, have continued to point to a spring release, Schiller's comment marks the first specific word from Apple management about the white iPhone 4 in many months.