AT&T Confirms Personal Hotspot Support Alongside March 11th iOS 4.3 Launch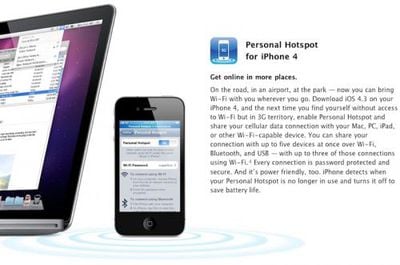 Several weeks ago, we
reported
that AT&T iPhone customers with access to iOS 4.3 beta versions were finding that the personal hotspot functionality was working with their existing tethering plans, but the carrier had yet to offer any official word on whether it would support the functionality once the software launched to the general public.
Electronista now reports that AT&T has indeed confirmed that it will support personal hotspot functionality on existing tethering plans with the public launch of iOS 4.3 on March 11th. Hotspot functionality will require that users have the $25/month DataPro plan with 2 GB of data plus the $20/month add-on tethering plan that the carrier recently augmented with an additional 2 GB of data capacity.
AT&T on Wednesday night confirmed with Electronista that it would start supporting the Personal Hotspot feature in sync with the launch of iOS 4.3. Subscribers will have the same support as Verizon customers when the update pushes out to the GSM iPhone 4 on March 11. Pricing should stay the same as for basic tethering and will need its new DataPro hotspot/tethering plan, which combines 4GB of total data with connection sharing for $45.
While the personal hotspot functionality is included in iOS 4.3, it does require carriers to specifically support the feature. Given that AT&T has been slow to adopt similar features such as tethering in the past, some customers had been concerned that the carrier would not offer hotspot services at launch.
Verizon is already able to offer hotspot functionality with its version of the iPhone, pricing its plans in a package of unlimited phone data for $29.99 per month with a separate 2 GB bucket of data for hotspot and tethering priced at an additional $20 per month. The carrier is, however, planning to drop its unlimited plan in favor of tiered pricing this summer, although tethering/hotspot add-ons will presumably continue under a similar pricing structure.