AT&T Allows Wireless Mobile Hotspot for iOS 4.3 Users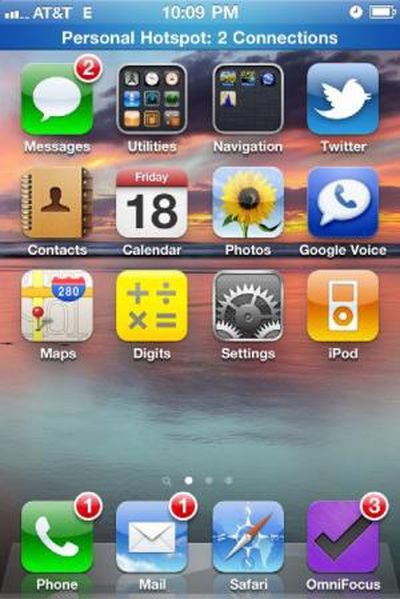 Photo from
@reeldigitalpro
One of the distinguishing features of the Verizon iPhone was the new ability for iPhones to act as a mobile wireless hotspot for other devices. This allowed customers to use their iPhone's data connection to share internet with up to 5 Wi-Fi enabled devices, such as your laptop or iPad.
While AT&T hasn't publicly committed yet to providing the same wireless hotspot functionality to iOS users, we've known that iOS 4.3 (currently in beta) adds this functionality to the OS. It's simply up to each individual carrier to decide to support it. AT&T did announce support for such a mobile hotspot for other smartphones starting on February 13th, opening the door for iOS support soon behind.
One report today claimed that AT&T was just starting to offer this specifically, but many iOS 4.3 beta users have reported that the mobile wireless hotspot simply works with their existing AT&T tethering plans. The fees for AT&T's mobile hotspot service are identical to the tethering plans ($20/month, 2GB additional data).
iOS 4.3 hasn't yet been released to the public. It was originally expected to be released already, but now most signs point to late February. It seems mobile hotspot access will be available for those interested on AT&T.