Apple Executives Discuss Targeting Low-End Smartphone, High-Growth Tablet Markets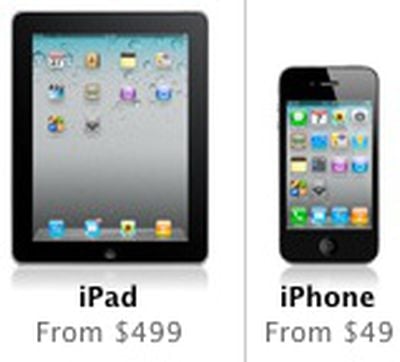 As happens on occasion, Apple once again last week held a meeting with research analysts to answer questions and offer guidance on Apple's plans. While the company is careful not to reveal many specifics, analysts in attendance routinely parse executives' words carefully to try to ascertain future directions for the company in an attempt to guide their clients. Forbes shares some details from a report of the meeting issued by Bernstein Research analyst Toni Sacconaghi, which included a number of comments by Apple Chief Operating Officer Tim Cook regarding the iPhone and iPad.
Calling the iPhone "the mother of all halos" for its ability to draw in new customers for the iPad and Mac, Cook apparently noted that the company is not ceding the low end of the smartphone market and is specifically working on "clever things" to address the prepaid market that offers significant potential, particularly in international markets. Cook's comments could be interpreted to lend credence to claims that Apple is working on a cheaper version of the iPhone that could be offered at a relatively low price even without carrier subsidies requiring long-term contracts.
The analyst says Cook "appeared to reaffirm the notion that Apple is likely to develop lower priced offerings" to expand the market for the iPhone. Cook said the company is planning "clever things" to address the prepaid market, and that Apple did not want its products to be "just for the rich," and that the company is "not ceding any market."
According to the report, Cook also expressed optimism for the tablet market, suggesting that it would eventually turn out to be much bigger than the PC market. Cook expects strong competition in the market from both smartphone and PC manufacturers, but points to Apple's significant head start and "interesting new things in the pipeline" as reason for optimism regarding Apple's future in the market. Apple is of course holding a media event on Wednesday where it is widely expected to unveil the next-generation iPad.
Among other tidbits, Apple executives reportedly noted that carrier expansion continues to be a major goal for the iPhone, and the company is seeking ways to improve the use of its capital, in part by doing more deals with suppliers to lock in components over the long-term.