Apple Issues Invitations for March 2nd Media Event to Introduce Next-Generation iPad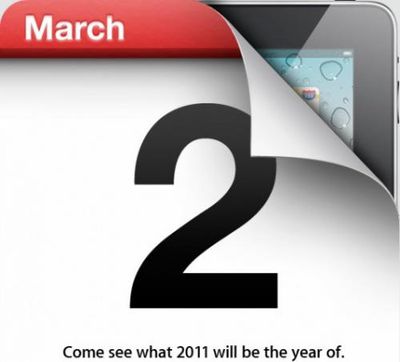 The Loop reports
that Apple has officially issued invitations to a media event scheduled for next Wednesday, March 2nd, with the graphics suggesting that Apple will indeed introduce the next-generation iPad at the event. The invitation comes with the tagline "Come see what 2011 will be the year of."
Apple on Wednesday sent an invitation to media inviting them to a special event on March 2 in San Francisco, Calif.
According to the invitation received by The Loop, the event will be held at the Yerba Buena Center for the Arts at 10:00 am. This is the same venue Apple has used to introduce a number of products in recent years.
Claims of the March 2nd media event surfaced just yesterday, putting the quash on recent rumors that the device's debut may be delayed until June.