13-Inch MacBook Pro Specs, Photos, Light Peak Known As Thunderbolt? [Confirmed]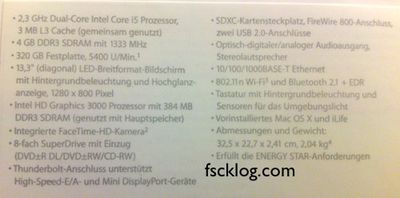 Fscklog posts a photo of what is believed to be from the box of the new 13" MacBook Pro that Apple is planning to release on Thursday. Amongst the features, the name of Apple's Light Peak implementation: Thunderbolt.
Translation of the specs by devilcm3:

Core i5 two cores at 2.3 GHz 3 MB cache
4 GB of DDR3 1333 MHz
Hard Drive 320 GB 5400 rpm
Screen 13.33 "glossy 1280x800
Intel Graphics GPU HD 3000 with 384MB of RAM shared with main memory
Camera HD FaceTime
Superdrive 8x
Thunderbolt yet compatible with the I / O devices and high speed MiniDisplayport
SDXC Card slot, Firewire 800 and two USB 2.0
Digital Audio Output
Integrated Ethernet
Backlit keyboard
Size and weight 32.5 x22, 7x2, 41 cm, 2.04 kg

Mac4Ever posts these photos that appear to be marketing materials for the new MacBook Pros, with a partial image of the notebook itself:

Finally, this image claiming to show a Thunderbolt port, which looks a lot like a DisplayPort. We're not sure of the original source of this image:


Update
: We've confirmed that these images are legitimate. This is of the low-end 13" MacBook Pro, so it's possible that the higher-end model will have different features.
In English: